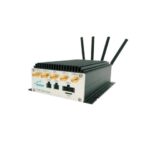 The device is a multi function monitoring module designed for mobile applications in cars, trucks, buses, ships and any mobile vehicles or machines. Besides standard tracking functions such as Car Logbook, GPS tracking/positioning and wireless GSM data transfer to database or cloud, it has been extended with modules utilizing cameras.
Technical parameters

Power supply: 7-20 / 17 – 48V

Power consumption: 15W full operation / 50mW sleep/stand by

Operating temperature: -40 °C … 70 °C

Dimensions: 226mm x 130mm x 55mm excluding ext. connections
Available peripherals

2× WiFi (802.11a/b/g/n/ac)

2× LTE modem (each 2x SIM)

1× USB 2.0

2× Ethernet 1 Gbps M12

2× Digital input

1× GPS module

1× Bluetooth

2× HD video input, 2MP, 3MP

1× CAN-BUS + Kline

1× Accelerometr, Motion sensor

1× HDMI 1.4

Battery
Wireless Data Monitoring
Depending on configured requirements, the system allows connection of two analogue cameras with HD resolution and two IP cameras. When active, it stores camera images into the internal SD memory. Individual images or videos can then be remotely requested, and accessed at any time, particular events can be traced and images can be displayed online in real time. The system is designed to automatically send images or short videos when and immediately after events occur depending on configuration.This multifunctional device allows tracking your position via the built-in GPS module, communicate with the outside world via GSM / 4G LTE creating two independent Wifi networks (Wifi hotspots), communicating with the vehicle control systems and monitoring many parameters.
Available features
The unit consists of Inputs and Outputs, connection to vehicle CAN BUS with an option to display operation parameters such as fuel, speed, container door OPEN/CLOSE, movement detection, comfort system status, temperature,etc. Based on configuration, the images can be send by e-mail in response to particular events/occurrences such as opening doors, entering a defined GPS area, start of driving, termination of driving, in configured time intervals, when exceeding certain speed level, when exceeding certain temperature or other conditions regarding operating parameters of the vehicle or machine.
The Outputs can be used for remote control of selected functions for example preventing the vehicle from starting. These functions significantly ease up the overall administration for example at the loading/unloading check in the transportation segment. It can also display routes, route images, actual vehicle position and other vehicle parameters online on the internet or the data can be exported to internal systems of the customer which can be used for better planning. The cameras can be installed within the vehicle transportation space/container and for monitoring the area in front of the vehicle during operation. The recording can be thenused as evidence of accidents, occurrences and events. The system can also be used for tracking a stolen vehicle.
---
Block diagram
---
Application examples
Security system for logistics and goods carriages
Pre/post crash data and video recording
Data and video monitoring for fleet operators
Wi-fi hot spot with camera for buses and transportations vehicles
Car logbook, tracking and GPS monitoring
Remote control of cameras and vehicle functions via GSM/Wi-fi
Automatic functions: Images/video recording at time of occurence
Real-time monitoring using up to 4 cameras inside or outside
---
---
Request quote
---