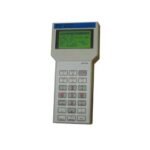 The device is used for monitoring and testing of the ARINC429 bus. It contains both the receive and transmit ARINC interfaces. This makes possible reception up to 100 packets and transmission of up to 32 packets simultaneously with resolution of 5 ms.
---
Technical parameters

Power Supply: 10…30 V DC

Battery pack: 4× NiCD 2000 mAh, type AA

Power consumption: nominal 1 W (without backlight)

ARINC429/419 interface: "Low Speed" or "High Speed"

Low speed: 13 kbit/s ±0,5 %

High speed: 100 kbit/s ±0,5 %

RS485/422 interface: full duplex, max. 115 kbit/s

Dimensions: 106 × 224 × 40 mm

Weight: 400 g (without internal battery pack)

Battery recharge time: ca 24 hrs

Power-on time: ca 3 hrs

Operating temperature: 10 °C – 40 °C

Storage temperature: -10°C – 50 °C

Safety standard: IP44
Other than ARINC interface a full duplex RS485/RS422 communication interface as well as RS232 service port are available.
The device can be powered from an external power source or from an internal battery pack. When the device is plugged to an external power source (connector is easily accessible on the left side) internal batteries are automatically charged.
---
Screenshots
---
Request quote
---