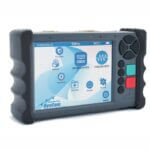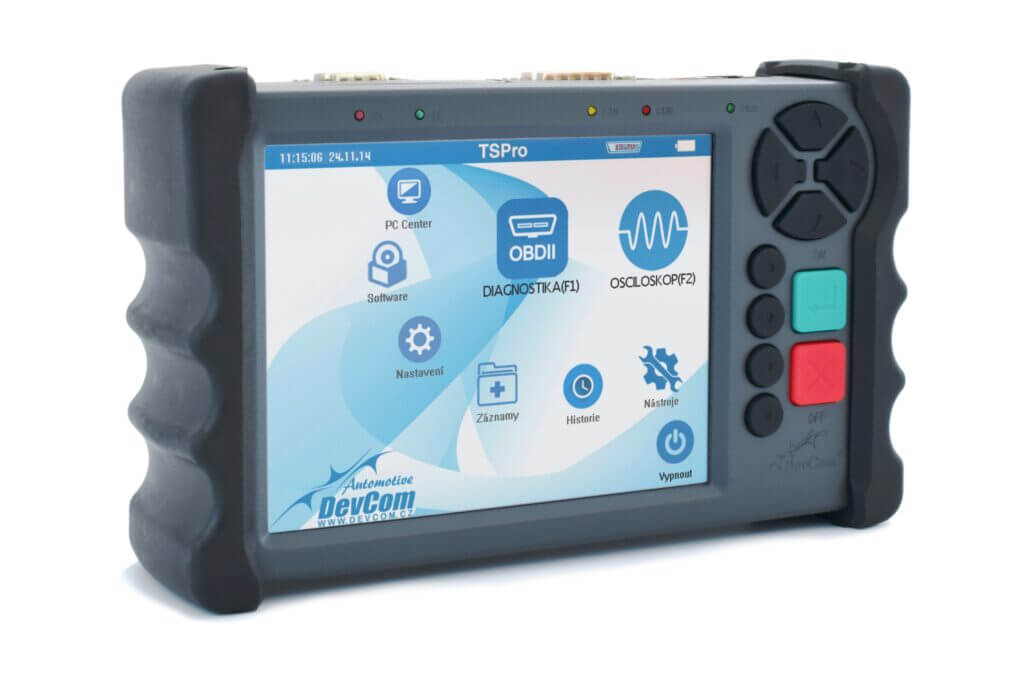 The TSPro diagnostic device is connecting the world of mobile devices and personal computing. Our main goal when designing the device was to improve and add new functions to the TSPro device required by current trends in vehicle diagnostics while preserving functions our customers liked on the first generation TSPro.
Description
As the current trend is to perform vehicle diagnostics using a laptop or a PC the TSPro device is fully compliant with this type of workflow. A personal computer offers user friendly graphical interface for diagnosing vehicles and can also be used together with information systems, such as Vivid Workshop. The main advantage of the the new TSPro Color is that the device merges advantages of mobile diagnostic devices with PC-based diagnostic tools.
TSPro Color is equipped with a colorful touch-screen and a simple keyboard, meaning that users can perform car diagnostics in challenging situations outside workshop and even without a personal computer. When connected to a PC all diagnostic functions are available via a computer program. In this mode the TSPro Color serves as a converter between the vehicles ECU and your PC.
Complete diagnostic
Including features such as oil change and service interval reset
Vehicle database
Selection of more than 75 car manufacurers and over 1600 individual vehicle models
Customer support
Interface language customization, customer support always available
Technical specifications
Screen:
5.7" color touchscreen
640×480 px resolution
Keyboard: silicone buttons
Connectors:
canon 25 pin for CAN bus connection
RJ45 (Ethernet) and USB type B for communication with a PC
power source connector
canon 9 pin for oscilloscope probe connection
Power supply:
Internal battery (up to 2 hours)
12V DC (vehicle battery)
220V through external power supply adapter
Size: 200 x 120 x 54 mm
Weight: 746 g
Wattage: 8 W
Software
Serial diagnostics for for vehicles from 1990 to present day
Large manufaturer database
Support for E-OBD, OBD-II, CAN, ISO and SAE standards
Updates available via CD or online
Information and diagnostic software both in TSPro and in PC
Custom SW packages available
Allows printing out protocols and test results
Multi-language support
Oscilloscope
No. of channels: 2/4/8
Sample frequency: 20 MS/s for each channel
Voltage 50mV – 100V /div
Time base: 5μs – 5s
Binding: AC/DC
Starting: Single, Auto/Roll, Normal (rising/falling)
Recording: cca 2h in 4-channel mode
View: option to view recorded measurements inside TSPro
Memory card: 1 GB
Other features
Compact design
Protective rubber zones
LED indicators of bus communication and charging status
Optional Wi-fi module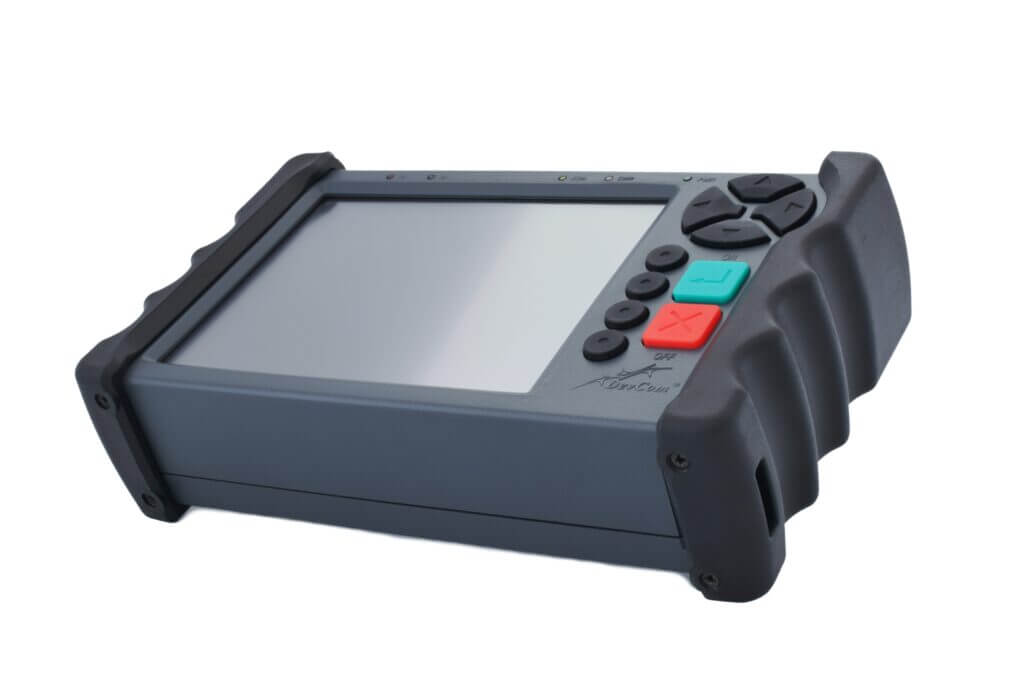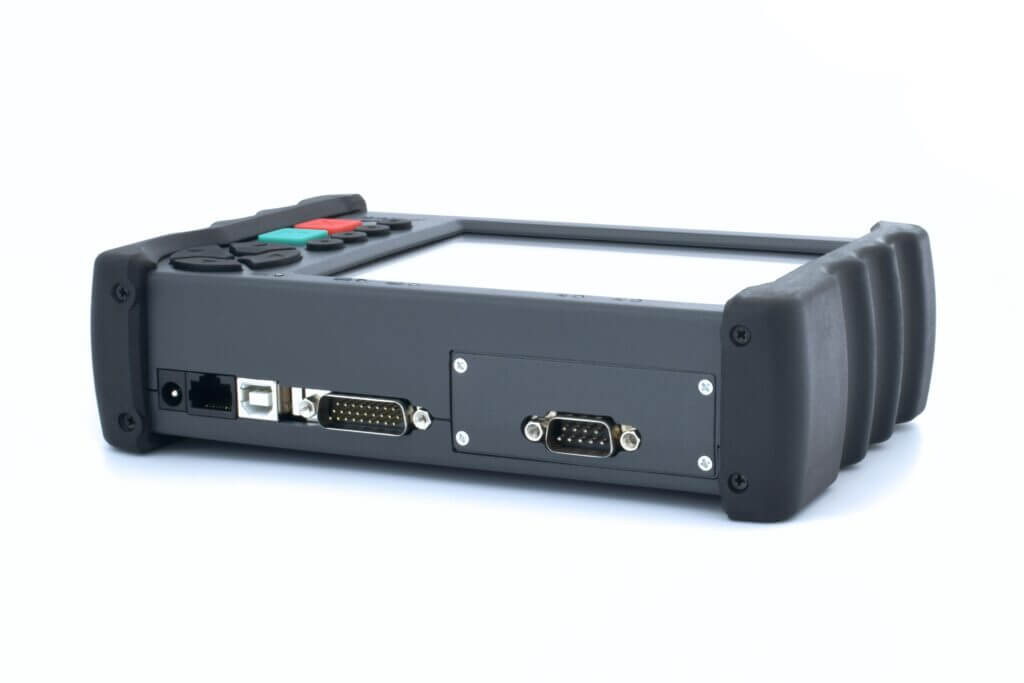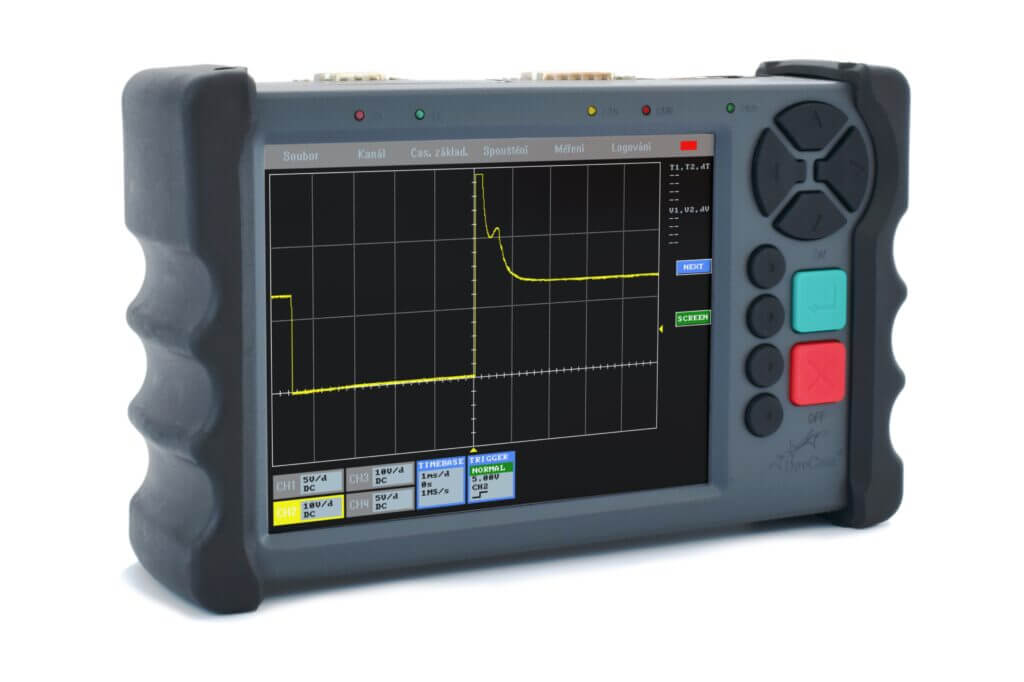 ---
Where to buy?
The complete range of TSPro and Troodon diagnostics can be found on our eobd.cz shop. We are actively working on new distribution channels in europe and other regions. If shipping to your region isn't available yet, please contact us via the form below for a direct order. If you have any questions about our diagnostics, please contact us at diagnostika@devcom.cz or by phone at +420284860938. You can also contact us via the contact form below.
Do you have a question, would you like to order directly or need a custom quote based on your workshop needs?
We will be happy to advise you, help you and send you a quote based on your needs. Just fill in and submit the form below.
---
Supported car manufacturers
---
Supported truck and utility vehicle manufacturers
---
Supported bus manufacturers
---
Supported special machine and engine manufacturers
---
Supported motorcycle manufacturers
---